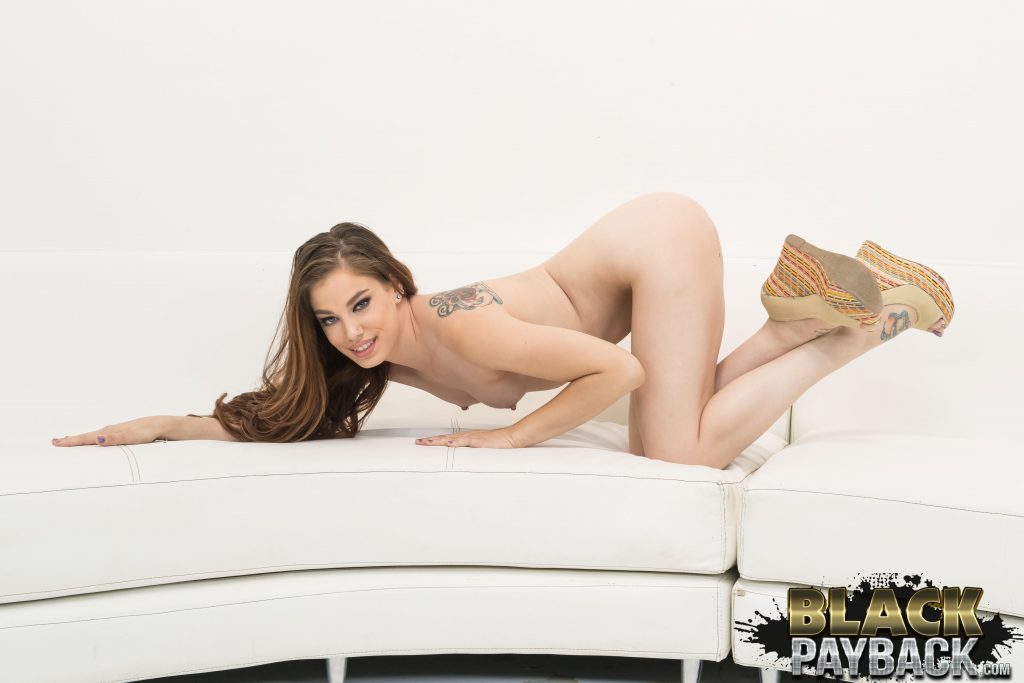 Cyber Space – While BlackPayBack.com maybe relatively new, it's not devoid of star power.  Week in and week out, BlackPayback promises to deliver hot white chicks getting pounded by black studs. And when we say pounded, we don't mean french kisses and cuddles, we are talking extreme payback fucking. No sensitivity training on these sets, it's all about making these girls pay for years of oppression.  If you want fancy lighting and frilly shot porn, BlackPayBack isn't for you, but if you wanna see some white chick get railed until she says shit that would make her family disown her, BlackPayBack is just what Huey ordered.
Bobbi Dylan is a perfect example of a cracker who think she black, yet who has the POWER to withdraw from her 'black' identity when adversity proves too much! This snow bunny even claims she can rap, but when put on the spot, can only regurgitate the lyrics from that fake ass sound cloud shit. However, this is not the only thing that spews out of her evil little throat, after a good dicking and face fuck she comes to her senses exclaiming "Fuck the white devil out of me"! She squirts on Prince's black dick multiple times as she is exercised of her pale demons. The albino hood rat was left to baste in the superior black seed that adorned her face, and it was glorious.
"The scene was played out to absolute perfection! So many people have asked for this hardcore fantasy." said Bobbi, "Prince is a true professional and this scene is truly amazing."
Check out the NSFW trailer here.
For the latest news from Black Payback follow them on Twitter.
Click here for BlackPayBack sign up deals.