Cyberspace – Dogfart Network, the Undisputed Kings of Interracial Porn, is stoked to announce that Ryan Riesling has won the #DogfartGOTM contest for the month of July!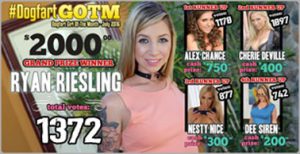 "I am so excited to be the DogFart Girl of the Month! I only have one scene with them and I am so passionate about it.  When my agent called me to tell me I was booked with them, I was elated! I wanted to do a gangbang so bad and to do it with an awesome company [DogFart] meant the world to me!" said Ryan. "Having amazing fans and supporters to vote for my scene in particular is such a great, heart-warming experience, and I couldn't be more honored!"
Rounding out the top 5 are Alex Chance ($750),Cherie DeVille ($400), Nesty Nice($300), and Dee Siren ($200).
Voting for the Dogfart Girl Of The Month contest starts the 10th of every month. The social media competition awards cash prizes to the top five girls who've had their fans tweet "I Vote (@Username) for #DogfartGOTM." Any girl who has shot for Dogfart is eligible to win.
Want some promotional help from Dogfart? Email us about a clean personalized Twitter header.
Want a free membership to all 22 sites on the Dogfart network? Make sure to follow Dogfart on Twitter for free access logins and great membership deals.
Please direct all media inquires and header requests to Matt at pornstarink@gmail.com.