On Monday, Internet darling Mercedes Carrera appeared on The David Pakman Show alongside Canadian journalist and media personality Liana Kerzner talking about GamerGate and Anita Sarkeesian.
The following evening Mercedes hosted a Google Hangout with Paul (@shidoshi79), an Army veteran suffering from PTSD and a host of other medical issues. Among the issues they discussed are what happens to veterans when they attempt to re-assimilate and the way they are treated. They also discussed Paul's fundraiser as he attempts to move his family from Missouri to Oregon so he can continue his education.
Last week Mercedes worked with superstar director/performer Bonnie Rotten for the first time. Big Tit Pin-Ups is the brand new title coming from Elegant Angel.
Mercedes said "It was such a pleasure to work for the prolific Bonnie Rotten. I have so much respect for her, as a performer as well as a businesswoman and director. I was really honored that she picked me for her upcoming movie, especially because it was such a fun and creative concept. I can't wait for this to be released."
Bonnie Rotten commented "Mercedes was a pleasure to work with, great attitude and great sex appeal. Her scene with Karlo was dynamite I can't wait for everyone to see her in action. From the moment I saw her I thought she was something extraordinary, and I am glad that my initial thought was backed up by her personality, poise, and performance."
Coming up Mercedes appears in, and is featured on the cover of Wicked Pictures' My Secretary The Slut .
Be sure to check Mercedes' Twitter, @TheMercedesXXX for the latest news on her many webcasts, interviews, and upcoming Reddit AMA.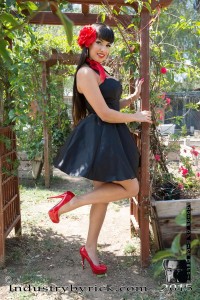 About Mercedes Carrera: A card-carrying member of the Illuminaughty, Mercedes joins the adult industry with a background in mainstream modeling and acting as well as education and work experience in engineering. She was scouted to one of the most prestigious fashion modeling agencies at the age of 13, earned her SAG/AFTRA membership as a teenager, and worked consistently for large commercial print magazines, catalogs and commercials.  After returning to university and majoring in manufacturing engineering with an emphasis on systems quality assurance, she worked in aerospace systems specializing in thermal testing for space based optics. She also worked as a telecommunications engineer and trainer, and in mainstream technical photography and film production.
She's excited to join the adult industry and brings 17 years of performance talents to pornography. She still is actively involved in technology in her spare time, and enjoys video games, chess and playing the piano, in addition to being an all-around irritant to anti-sex radicals. Mercedes is also an active philanthropist and donates her time and money to various causes on an ongoing basis.
Make sure you 'like' Mercedes' Facebook page.
Mercedes' fans can talk to and text the statuesque goddess through DreamLover or buy her a present from her Amazon Wish List.
Mercedes is available for bookings through ATMLA.
Mercedes Carrera is represented exclusively by Porn Star Ink for public relations. To find out more about Porn Star Ink, visit the website at www.pornstarink.com or follow us on Twitter, @PornStarInk. For interview requests or media inquiries, contact matthew@pornstarink.com.