Los Angeles, Calif. (August 14, 2015)-When it comes to finding the hottest girls, you can always count on ATMLA to bring in the best! Such is the case with the newest ATMLA Girl, Jenna Reid. With the ink barely dry on her contract, Penthouse couldn't wait to put her in front of the camera and make her Penthouse Pet for the month of September. The stunning 18 year old graces not only the cover, but Jenna is also the Centerfold for one of the most popular men magazines ever.
"My start in the industry has been wonderful. I've received some great opportunities so far and I hope to keep rising to the top! Getting to be September's Penthouse Pet was really a huge accomplishment for me." Jenna continues, "I really love all the different types of things I get to do and see being in the adult industry and of course, my agency, ATMLA, has really been wonderful! I wouldn't be here if it weren't for them. They've pushed me and made so many awesome things happen for me."
ATMLA is no stranger to its models being named Penthouse Pet, having had several over the past 3 years under the ownership and management of Mark Schechter.
"We seem to have the knack for finding models who are Penthouse Pet prospects, but to have one that is selected for Pet status before even shooting her first scene is definitely a rare occurrence. We were very fortunate when Jenna Reid came along, signing with ATMLA within a month after she turned 18. Upon her arrival, we took her to see the decision makers at Penthouse and immediately they casted her for the September, 2015 issue as Penthouse Pet. The excitement has been brewing ever since. Jenna certainly has all of the natural beauty and sex appeal to quickly catapult her to success in the Adult Industry, and she also has the ambition and a great mindset to reach what we all anticipate to be a very rewarding and successful career in the industry. I look forward to guiding her along the way." said Mark Schechter, owner of ATMLA.
Penthouse, which is celebrating its 50th anniversary in 2015, was founded in England by Bob Guccione in 1965 and brought to the States in 1969, the first issue of American PENTHOUSE sold out in a matter of days. England's controversial magazine of beautiful women, intelligent journalism and intimate revelations had arrived.
The covers of PENTHOUSE Magazine include celebrities and beautiful, art-inspired photography which chronicle the libido of a changing nation and the pop culture which helped shape it.
Made famous worldwide for its fearless approach to sexuality and its unabashed support of those rebelling from the norm and defining their own identity, Penthouse stands as the greatest men's brand in history.
The September 2015 issue of Penthouse hits newsstands August 12th. For more information check out PenthouseMagazine.com
.
Companies looking to book Jenna Reid, can do so exclusively through ATMLA.
Make sure you follow Jenna on Twitter.
Jenna is represented by Porn Star Ink for public relations. To find out more about Porn Star Ink, visit pornstarink.com or follow us on Twitter, @PornStarInk. For interview requests or media inquiries, contact pornstarink@gmail.com.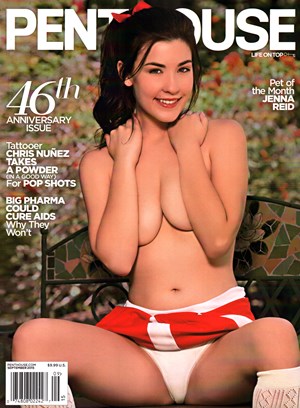 About ATMLA:
Founded in 2006, ATMLA has grown to become one of the largest leading Adult Talent Agencies in the Los Angeles Area.
In 2012, ATMLA was sold to adult industry veteran Mark Schechter, best known for his role as a partner in the award winning affiliate program Blazingbucks. With over 15 years of experience in the adult industry, Mark maintains an impressive reputation and track record of trust and integrity with a knack for dealing with people in and outside of business. Having worked closely with many performers with personal websites, content production, publishing of content, and sales and marketing, definitely provides an edge for success in managing an adult agency.
Mark's goal and mission statement is to grow into the largest and most desired agency amongst the industry professionals including performers and production companies and crew