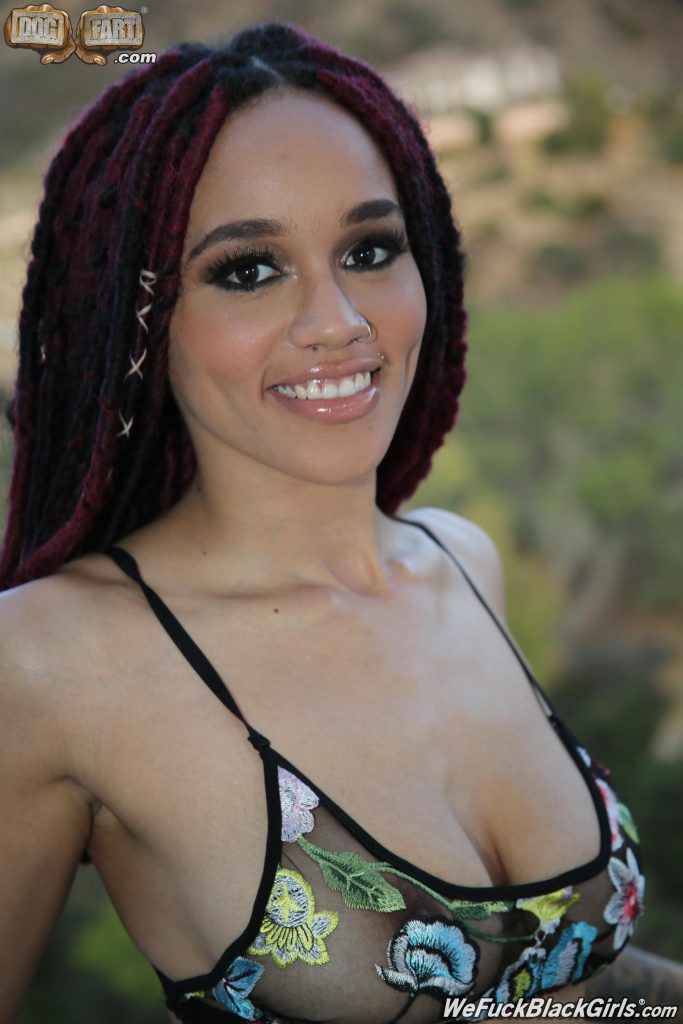 Cyber Space –  Beautiful ebony porn star, Julie Kay, has returned to the Dogfart Network!  Julie hooks up with Chad White on Dogfart's niche site, WeFuckBlackGirls.com. In one of her hottest scenes to date, Julie makes sure Chad goes home with more than just a smile on his face.
When Mr. Kay goes out of town on business, his wife, Mrs. Julie Kay, jumps on social media to start 'swiping right'. Mrs. Kay loves the random, no-strings-attached hook up that social media provides. Let's face it: Julie's not looking for a divorce.However, she DOES love a 'random' from time to time. To make matters worse, Mr. Kay is black…but he's not hung. In fact, his black dick is actually kinda tiny. "The rumors about black men isn't true!" Julie says, time and time again. Julie also claims to be a "white cock slut", so when she does swipe right, it's always on a white boy.
"Dogfart is one of my favorite companies to shoot for and Billy is always amazing and encouraging on set," said Julie. "Chad was a great co-star, whom I have absolutely amazing chemistry with!"
"We love working with Julie!" says a Dogfart rep. "She knows what her fans like and brings her 'A' game every time."
Click here to view the NSFW trailer.
The public can get a sneak peek behind the scenes on all Dogfart productions by visiting DogfartBehindTheScenes.com.
For the latest updates and membership deals, follow Dogfart on Twitter.
To join all 22 Dogfart Network sites for one low price click here.
Please send all media requests to PornStarInk@gmail.com