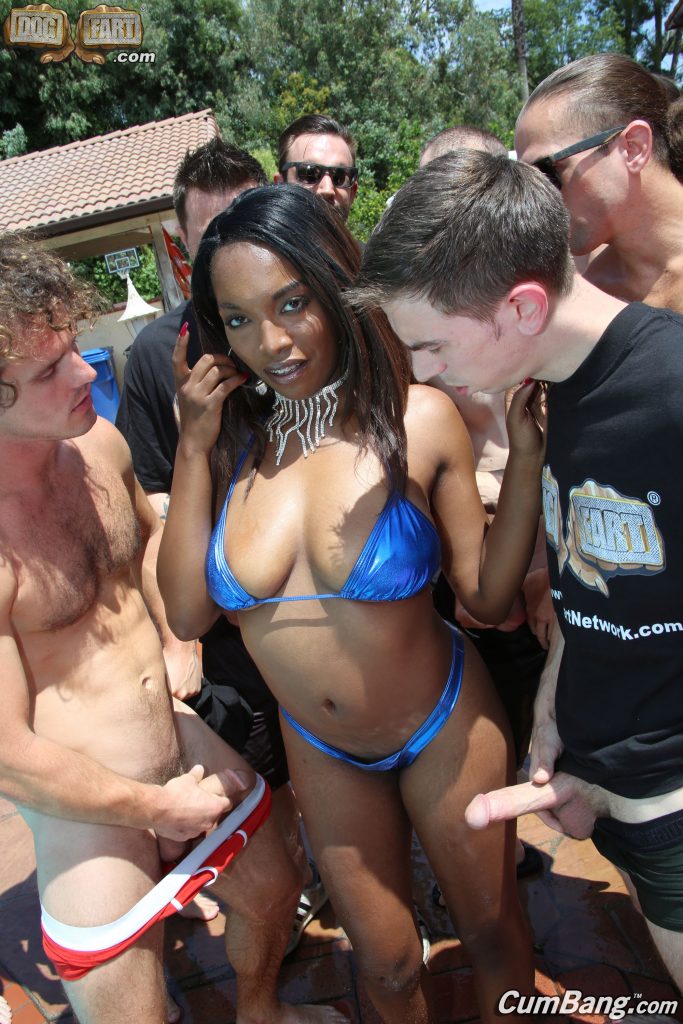 Porn Valley – Dogfart Network, the Undisputed King of Interracial Porn, presents a tantalizing week with a couple of fan favorites: Riley Reid and Daya Knight! The dynamic duo brings a tasty treat to their fans. The double-D diva, Daya, won't let the summer end without making her vanilla boys cream. Her cumtastic mouth will having you begging for more. Riley's star shines bright this week as she shows that less can be so much more! The pixie princess uses her mind-blowing skills to fuck the biggest chocolate cocks…leaving them wanting more. Vanilla and chocolate never had it so good 🙂
Riley Reid has a boyfriend, and it's his birthday! But let's face it…Riley is WAY out of his league, but she sticks with him for a couple reasons: he's an earner (and makes a lot of money); he also never questions where Riley goes or who Riley "hangs out" with; and, finally, he's very generous with his credit card in order to fund Riley's many shopping sprees. Something else Riley likes about her man — his favorite kind of porn is "cuckold porn"! Since Riley loves the BBC, they watch it together. So Riley knows he's a closet cuck…and today she's gonna drag him out of that closet!
Check out the NSFW CuckoldSessions.com Trailer
Daya Knight, the busty, ebony beauty can't swim! But that didn't stop her from inviting 12 white boys over to her place for some fun in the sun. "If you can't swim, then what are we doing in the pool?" Daya gets right to the point: "I wanna suck a lot of white dick!" In a matter of seconds, Daya's poolside and on her knees, her 19-year old mouth open and waiting for action. And action is what she gets.
Daya's CumBang.com trailer can be viewed here.
"The fans have spoken!" said a Dogfart rep, "Both of these scenes are quickly becoming 2 of the highest rated scenes ever."
For the latest updates and membership deals, follow Dogfart on Twitter.
To join all 22 Dogfart Network sites for one low price click here
The public can get a sneak peek behind the scenes on all Dogfart productions by visiting DogfartBehindTheScenes.com.
All media requests for Dogfart Network should be directed to Matt at pornstarink@gmail.com