Mercedes Carrera Interviewed By VICE Magazine About Fisting For Charity
The Sensational Starlet Also Has Two Big Releases This Week
(LOS ANGELES – January 29, 2015) – Outspoken MILF performer Mercedes Carrera was interviewed by Vice Magazine regarding the charity cam show she organized January 2nd with the help of fellow porn stars Paisley Parker, Holly Heart, Mia Austin, and Nadia Styles. The event raised $11,280 USD for STEM (Science, Technology, Engineering or Mathematics) scholarships.
Said Mercedes, "We are so pleased that VICE reported on The Porn Charity and our live cam show benefit in both the Canadian and U.S. markets. The journalist, Neha Chandrachud, thoroughly and accurately relayed the intention of our endeavor and the history behind it. It was a pleasure to work with Ms. Chandrachud on her article."
She continued, "We are extremely excited at the positive reception our effort has received, not only by the adult industry but also by the technology community. We want to thank Ms. Chandrachud for giving us such a platform to share our project and successes. She relayed how not only is this a groundbreaking event in the sense of tying porn to science, but that it is also an active demonstration of the kindness, compassion and self determination many porn stars possess."
Mercedes has two big releases this week. The first is Nutz About Butts for Jules Jordan Video, directed by Chris Streams. Mercedes performs in a sizzling scene with top porn stud Manuel Ferrera.
"Working for Jules on Nutz About Buttz was a wonderful experience," Mercedes enthused. "Not only were the crew, Chris Stream and Tony Flush, wonderful to work with but my co-star Manuel Ferrara was a dream to perform with. I love the photo set for this shoot as well. I'm looking forward to seeing the other scenes in this movie as the other talent and co-stars are so hot! I'm very happy I had an opportunity to be part of a movie with so much fantastic talent."
On Sunday, before the Big Game, Mercedes hopes fans will watch Brazzersbowl Sunday on Brazzers.com. Mercedes teams with Destiny Dixon and Peta Jensen to take on stud Keiran Lee.
"Destiny Dixon, Peta Jensen and Keiran Lee were all so fun and so excellent in this scene and we had a blast sharing Keiran's huge cock and cum! Can't wait for everyone to see how we celebrate football season for Brazzers!"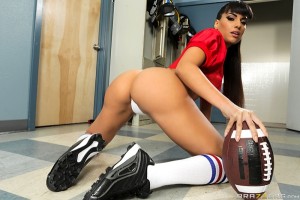 About Mercedes Carrera:
A card-carrying member of the Illuminaughty, Mercedes joins the adult industry with a background in mainstream modeling and acting as well as education and work experience in engineering. She was scouted to one of the most prestigious fashion modeling agencies at the age of 13, earned her SAG/AFTRA membership as a teenager, and worked consistently for large commercial print magazines, catalogs and commercials. After returning to university and majoring in manufacturing engineering with an emphasis on systems quality assurance, she worked in aerospace systems specializing in thermal testing for space based optics. She also worked as a telecommunications engineer and trainer, and in mainstream technical photography and film production. She's excited to join the adult industry and brings 17 years of performance talents to pornography. She still is actively involved in technology in her spare time, and enjoys video games, chess and playing the piano, in addition to being an all-around irritant to anti-sex radicals. Mercedes is also an active philanthropist and donates her time and money to various causes on an ongoing basis.
Mercedes can be booked through ATMLA. (http://atmla.com/atmla2/tour/performers/38027-pornstar-mercedes-carrera/details.php) Fans can buy Mercedes a gift from her Amazon Wish List (amzn.to/1ti7ytt)
Mercedes Carrera is represented exclusively by Porn Star Ink for public relations. To find out more about Porn Star Ink, visit the website at www.pornstarink.com . To inquire about representation, or for media inquiries, contact matthew@pornstarink.com .