Adult Star Ryan Conner Releases Pop Single, Music Video
From porn to pop — debut album "Bad Apple" due in September
(LAS VEGAS, Nevada – April 3, 2015) – Ryan Conner goes pop! The ex-adult film star recently completed work on a mainstream music project, and is ready to surprise the world with her new pop single, "Control".
The statuesque blonde, who performed in scores of hardcore movies between 1999 and 2005, branched into music in 2011. After releasing two singles under her legal name, Deborah Nos, she teamed up with music producer Steve Wetherbee. That collaboration has yielded an album's worth of material.
The electronic pop track "Control" is the first single from her debut album, "Bad Apple".
"I have only released 'Control' so far," Conner said, "but I think I'll be releasing the next single, "The Rabbit Hole", in May. The full album will be available in September."
Conner revealed that the provocative lyrics to "Control" concern "a woman that says she wants to experiment with another woman but then backs out of it, in the style of a cock tease."
"Control" by Ryan Conner is available on iTunes.com, Google Play and Amazon, and the music video appears on YouTube.
The song's stylish, kink-themed video features the voluptuous artist alongside her daughter, up and coming adult starlet Dylan Phoenix, as well as Mike Greenfield from the band Smother Theresa. Directed by Conner, "Control" was filmed by Blare Media on an Epic RED hi-def camera at Las Vegas' Faust dungeon, with Shibari / Kinbaku rope work done by Sir Lars from San Diego.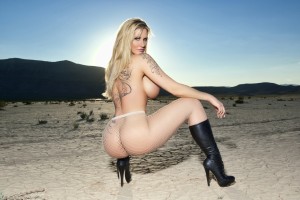 While the track for "Control" has an electronic sound, Conner describes the album as "mostly pop with rock influences. There's even some arabic influence in a couple of songs on the album."
Conner penned all the lyrics for the album. "I had an idea for an album centered on my journey into and through porn, and so that was my 'concept'. I started off with the lyrics for "Bad Apple". That was probably the hardest song to complete because I had it recorded with another producer, but I wasn't satisfied with the way it sounded."
After a two years of writing and recording her songs with several music producers, but still unable capture what she thought the cuts should sound like, she and Wetherbee decided to rework all the songs, and cut completely new tracks for most of them.
A perfectionist, Conner worked with a vocal coach through some of the recording. "I'm proud of my work but I intend on getting better. The same goes for the videos. The next music video is being shot at the end of April in Las Vegas, and I'm directing that one as well. My goal is to make it even better and more entertaining. I've learned a lot, and I hope to continue learning. I'm having a blast!
Conner said her eclectic musical tastes influenced the album's vibe. "I'm an '80s baby but I love all music and will find a way to incorporate it all into my work. I don't believe you can live and hear music and not have it profoundly influence you. My personal influences are vast; I love classic popular music like Billie Holiday, Frank Sinatra, The Righteous Brothers. But then I also dig EDM like VNV Nation and DJs like Paul van Dyk, and Avicii. In terms of rock, Journey, The Beatles, No Doubt, Queen, and Skrillex are just a few that influenced this album."
The singer/songwriter emphasized that her songs about her journey into porn definitely do not reflect any regret over her career in adult entertainment:  "Let me first say this: I never retired! I just got busy and forgot to shoot. Sounds corny but it's the truth.
"I loved the adult industry. It was the right thing for me. I am neither conflicted about my time in porn nor do I have a disparaging thing to say about the industry. It was the best time for me. And quite honestly I might make a comeback!  Right now I am intensely enjoying making music so it would be very hard to decide which to choose. Trying to do both might be a little too distracting, even for an Aquarian like me, but we'll see. The closing credits aren't rolling yet so I'd like to believe I have time [laughs]."
Conner is currently working on her follow-up album. "It's in the writing phase now and we'll probably begin recording towards the end of the year," she said.
To purchase Ryan Conner's "Control" single for $0.99 USD, visit iTunes.com, Google Play or Amazon.
"Bad Apple" track list:
1. Zero Gravity
2. Just Because
3. Smoke & Glitter
4. Bad Apple
5. Scarlett, The Letter
6. Naughty
7. Show You
8. The Rabbit Hole
9. Control
10. Like A Moth To A Flame
11. X Marks The Spot
12. Somewhere Between
Media contact: Porn Star Ink PR, Email: matthew@PornStarInk.com. Twitter: @PornStarInk